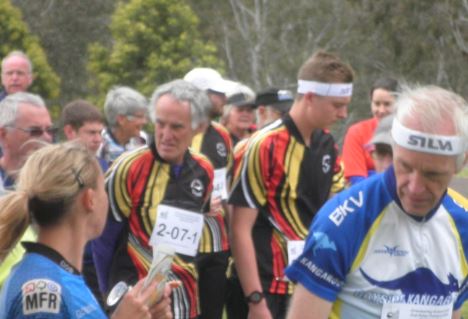 This year's club relay championship event was held at Brimbank Park, on the Maribyrnong River in Keilor. Yarra Valley fielded seven teams of three, including two teams on the long course, two on the medium, two on the short and one on the mixed length course.
The day was extremely windy, and threatened to blow down tents and banners assembled for the event. And it was necessary to hold tight onto your map when running across the exposed open areas of the park.
Two Yarra Valley teams took out third place in the relays:
On the medium 4.7km course, juniors Brody McCarthy and Callum White teamed with Brody's dad Cormac to come third out of 18 teams, by an 8 second margin from a Bendigo team.
On the mixed length course, Ashley White teamed with his mother Heather and club coach Ruth Goddard to take third place by just under two minutes from another Bendigo team.